Dollar General
has a promotion starting today that goes through the end of the week. Buy $20 worth of paper towels, toilet paper, and/or trash bags and get $5 off instantly! Be sure your total is $20 after your coupons! And don't forget that the extra 50% off sale is going on through tomorrow (Oct 3). There are various paper products that are half off and can be used towards this promotion. Check your clearance aisle for orange stickers!
My purchase was as follows:
(3) 6 roll Viva $3
(1) 12=48 rolls Cottonelle $5.38
(1) 8 roll DG paper towels $2.25
(2) 8=12 Sparkle paper towels $3.93
The $5 comes off automatically as small amounts off of each item on your receipt.
I used (2)
$1 Sparkle coupons
and (1) 50¢ off Cottonelle coupon. Please note that the Sparkle coupon that I printed today did NOT scan. The one I printed about a month ago did. YMMV ... but they may not take it if it does not scan.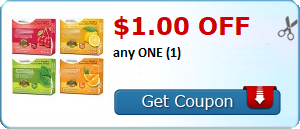 You can check for available coupons in the
Penny Puss Coupon Database
depending on what brand you are buying.
.
We use affiliate ads to help fund our site.